About

Consumers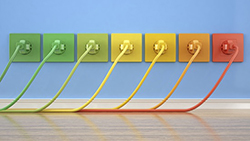 ---
The energy label is a tool that provides a clear indication of the energy efficiency of a product. The system currently in use is based on 10 energy classes, ranging from A +++ to G. A new classification system is introduced, which simply goes from A - the most efficient class - to G - the least efficient, making it easier for everyone to understand and compare products.
About the new energy label
Five product types will have a new, revised and updated energy label: refrigerators, including wine storage appliances, dishwashers, washing machines and washer dryers, electronic displays, TV and monitor counting, and lighting sources.
The new labeling will be applied to four groups of appliances starting from March 1, 2021, while the LED lights will be in effect by September 1, 2021.
Depending on the product, the new label will show electrical consumption and, unlike the previous one, also other useful information relating to energy and more, through intuitive pictograms and thanks to a new innovative element, a QR code.
Features
The main elements of the new label are:
- QR code: the addition of the QR code allows consumers to obtain further information on the appliance;
- New energy scale: from A to G, with no more '+' classes;
- Energy consumption: it is specific for each product;
- Pictograms: indicate the performance and characteristics of the product.